Class Preparation
Device and Software
Before your first lesson, make sure you have the following device and software ready:
If you have an iPad, download the Lingo Bus iPad App from the App Store.
If you wish to take classes on PC/laptop, download the Lingo Bus PC APP here.
ATTENTION: you can not take classes on smartphones!
In order to take online classes, a webcam is required. It is also highly recommended that you use a headset with a microphone for audio quality.
Lesson Preview
Each lesson comes with online flashcards to help students learn, practice and test themselves on the new characters and words.
Before each lesson, students can expose themselves to new vocabulary by using the Flashcards tool in preview mode.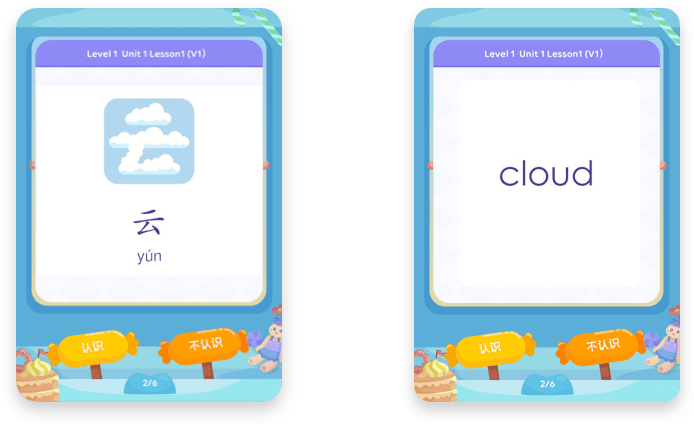 They can also view a 1 to 2 minute video to preview the lesson.
*Preview materials currently not available for placement classes.
Study Center
Parents can manage all of the classes in Study Center as well as access our abundant study materials. There are 4 different tabs in Study Center:
"Home"-Parents can check the brief information of all the scheduled and completed classes by switching between the "Scheduled" and "Completed" tag.
"Schedule"-Parents can make appointments for their child in this tab by selecting a specific timeslot.
"Study"-Parents can help their child to access the preview/review materials of the classes.
"Resources"-Get access to our Online Library and supplementary study materials.
The Online Classroom
Enter the classroom at least 10 minutes before your scheduled class time and follow the user tutorial to check your devices.
Know that it is completely normal for children to be a little shy or nervous during their first online Chinese lesson.
Find somewhere quiet and comfortable to take the class, keep your child company for the first lesson, and just leave for the rest to our encouraging and experienced teachers.
If you encounter any IT issues during class, click the "Help" button at the upper right corner of the classroom and choose a relevant issue to report.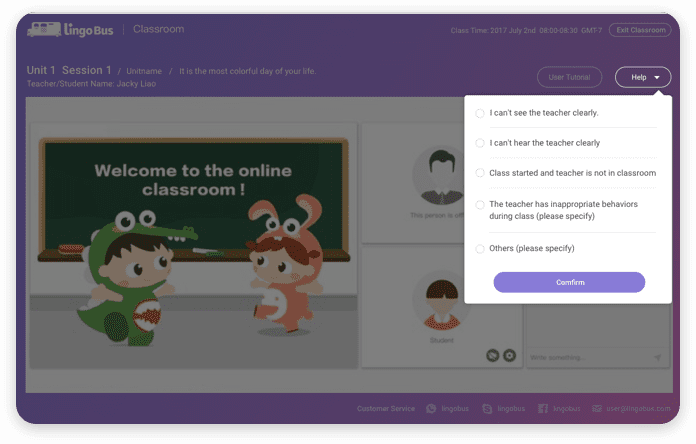 Homework, Feedback & Class Video
Review Homework & Quiz
Language learning is all about practice and application.
After class, students can review vocabulary using the Flashcards tool, practice listening and speaking skills using the Audio Story, and take a quick Lesson Quiz to test how well they have mastered the material. Students can also download a Workbook (with audio) from each unit.

Lesson Quiz

Audio Book
Teacher Feedback
Students receive feedback from their teachers after each lesson. This feedback helps students understand their learning progress and areas of improvement, so they can practice after class accordingly.
Playback and Growth Journal
A class playback video is created 12 hours after each class. Students can review the class materials by watching the playback. Parents can also watch the playback to monitor students' study progress.
Also available is a Growth Journal video consisting of class highlights. Feel free to share it with friends and family to show off some Chinese!
Safety Rules
1. Please keep your personal information safe.
Please avoid sharing who you are, where you live, where you go, or how to contact you.
Please don't show photos with school uniforms or other people in them.
2. Please always be kind and friendly.
Lingo Bus is a place for kindness, communication, and progress. Please rethink what you send and how it could make others feel. We hope that you help us keep our classes kind, friendly, and engaging.
3. Please observe basic social etiquette.
n order to keep our classes creative and friendly, students should observe basic social etiquette in class, dress appropriately, and not abuse teachers or other students.
4. Know how to report and block.
You have the power to report and exit classes by clicking corresponding buttons. You can report behavior that you don't think is good for our classes by hitting the "Help" button. Our team will then review the video and communicate with you.